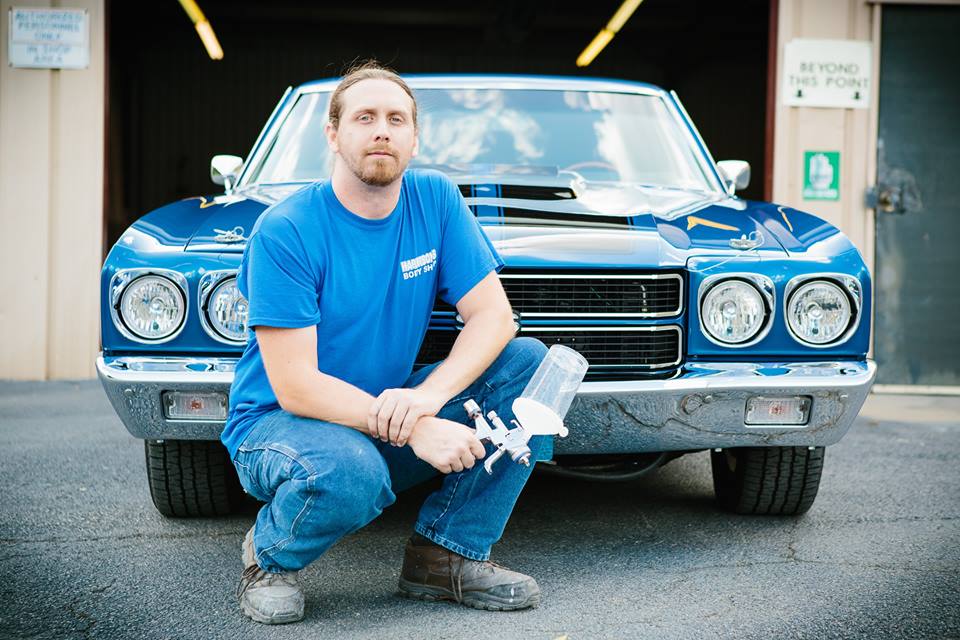 Hey everyone! My name is Jeremy and I am a 32 year old painter from Macon, Georgia.
My passion is being able to help people correct mistakes, fine tune techniques, and come away better than they were in the booth. I have had the fortune of working with some very talented painters over the past 15 year and love spreading knowledge to others.
A little background on me,
I grew up working in a family owned arts and crafts business my parents owned and operated throughout the late 80s to late 90s. I was running a cash register at 5, doing credit card transactions at 8(the old school paper copies with the slider!) and helping do inventory and paint by the time I could count. My parents enstilled in me a work ethic that goes on to this day with that business we had. I worked mainly with my mother who did all of the hand painting and lettering on our products, while my brother learned the woodworking side of the business working out in the shop with my father. At the age of 4 or 5 I had a brush in my hand, learning how to base coat with oil and acrylic paints for my mother to come back with her designs, and as I grew, she began working with me with brush techniques and how to highlight and shadow. Meanwhile, I'm out there with her in our carport varnishing everything to get them all ready to sell at the shows. Art and painting was a big part of me growing up and jokingly to my mother, I blame her for being the reason I got into the refinishing industry.
I got into cars like any other teenager.
It got closer to me getting my license and having that long awaited freedom as a teenager, I longed for the cool cars to have. My father was a big fan of the old school hot rods and we would regularly travel up to Atlanta or Pigeon Forge, TN for the classic car cruise ins and car shows. It was there I started falling in love with the bright colors and body modifications of these older cars. Shortly after, I got a quote for around 3k to do a paintjob on my truck I had in highschool. Soon, the art background I grew up with started to come back into my brain and I thought, "hey, I could do this". Well, it started there, and I began learning as I could on my own, and eventually got a job sweeping floors in a shop and worked my way up asking questions to anyone who would give me the time of day.
I consider myself very fortunate to have had the opportunities I have had in this industry. By having a few magazine articles published, to meeting and shaking hands with people I have looked up to in this industry years(and still do for that fact), and befriending people I never thought I'd even have a chance to talk with, it gives you clarity that we are ALL the exact same and have the same passion for the industry.
I started the Ask The Painter group on facebook as a group for tech specific talk.
I grew tired of having this incredible tool of the internet, and everyone using it to simply bash, argue, and offer illogical advice to people wanting serious answers. We have grown it to around 1200 members as of this typing in the year and a half its been up and eventually, it gave me the idea to try a livestream to reach out and help fellow painters….becoming Booth-talk on Instagram. Booth-Talk began as a livestream on Instagram to bring about a live campfire style chat for painters to come together and get real time discussion going and opinions on products. This has grown now, to the Booth-Talk Podcast, which is launching in July of 2017, where I bring the stories of people within the industry to everyone so that they can hear what got them to where they are today, what drives them, and where they see the industry going.